Märklin 47803 Maersk Double Container Transport Car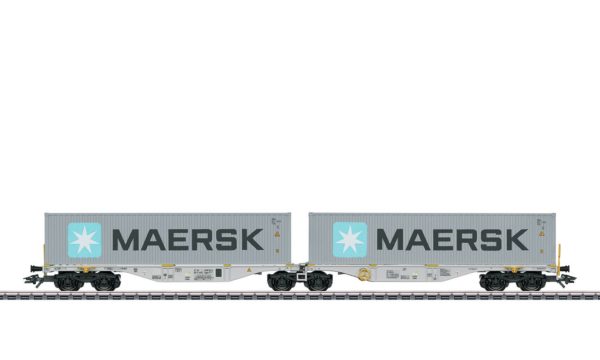 Manufacturer: Märklin
Article: 47803
Year: 2018-2020
EAN: 4001883478036
Railway Company: DB
Class: Sggrss 80
Road Number: 4950 514-2
Axles: 6
Gauge: H0 1:87
Era: VI
Length: 30.7 cm
Märklin 47803 Maersk Double Container Transport Car
Prototype: Type Sggrss 80 (DB Type Sggrss 733) 6-axle double container transport car with articulation, for combined load service. Light gray basic paint scheme. Privately owned car for the firm AAE Cargo AG, CH-Baar, Switzerland, leased to BoxXpress, Hamburg, registered in Germany. Loaded with two 40-foot box containers. The car looks as it currently does in real life.
Model: The cars have prototypical partially open transport car floors constructed of metal, with striking fish belly design side sills. The trucks are type Y 25. Both transport car halves are mounted flexibly on the center truck. The underside of the transport car floors have separately applied brake lines and air tanks. There are folding crossover plates on the upper side of the transport car floors in the area of the articulation. There are separately applied handrails above the car ends and the switching hooks. The cars are loaded with two 40-foot box containers that can be removed. Length over the buffers 30.7 cm / 12-1/8″.
Highlights:
Completely new tooling for the type Sggrss 80 double container transport car
Detailed construction chiefly of metal
Used in container trains as unit trains for ocean harbor to interior service
Containers are removable and can be stacked
Publications:
New items brochure 2018
Product programme 2018/2019
Product programme 2019/2020
See at Märklin.