Märklin 39835 Class 182 Porsche Electric Locomotive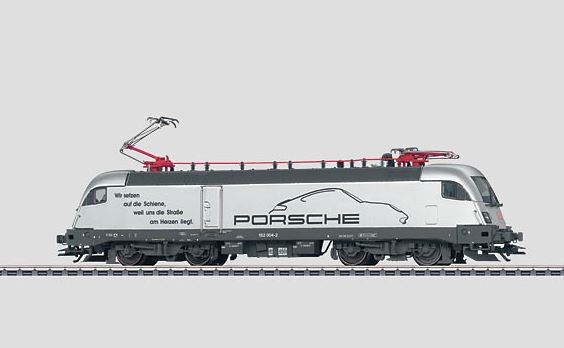 Manufacturer: Märklin
Article: 39835
EAN: 4001883398358
Gauge: H0 1:87
Railway Company: DB
Road Number: 182 004-2
Era: V
System: AC 3 Rail
Decoder: mfx, sound
Märklin 39835 Class 182 Porsche Electric Locomotive
Prototype: German Railroad, Inc. (DBAG) class 182 fast general-purpose locomotive. The design is basically the same as the Austrian "Taurus". Multi-system locomotive. Version painted and lettered for a high quality automobile brand.
The fast "bull" on rails can master the sprint from 0 to 200 km/h / 125 mph in 20 seconds – when it has to. With up to 8,700 horsepower, the class 182 is a worthy partner for the cooperative project of the aristocratic Stuttgart sports car maker with the German Railroad, Inc. Since 2001, Porsche, Inc. has been putting into practice a comprehensive transportation and logistics concept that manages the supplying of its plants with components and the delivery of new cars in considerable quantities by rail. All export automobiles for the overseas markets are brought securely to the North Sea ports on railroad cars – even the striking members of the 911 class. On the return trip for these trains, the Boxter and Cayman models built in Finland are brought south.
Model: The locomotive comes with an mfx digital decoder, C-Sine high efficiency propulsion, and a sound effects generator. 2 axles powered. 4 traction tires. The headlights and marker lights will work in conventional operation and can be controlled digitally. The long distance lights and the horn as well as the acceleration and braking delay can be controlled digitally with a Control Unit or Märklin Systems. Additional operating sounds can be controlled digitally with Märklin Systems. The engineer's cabs have interior details. The metal grab irons are separately applied. Length over the buffers 22.5 cm / 8-7/8″.
Highlights:
Metal construction.
C-Sine high efficiency propulsion with a maintenance-free motor.
mfx decoder with a feedback function and sound effects.
Sports car motor sounds for loading/unloading scenes.
Summer New Items 2006 – Fall New Items 2006
Automobile transport cars to go with this locomotive are available as a set as item no. 47125.
See at Märklin.